TAT Training Center: Is a fully fledged training facility enabling trainees to concentrate on their studies or examination as appropriate. Our instructors, Examiners and Assessors are practicing professionals with strong academic and industry backgrounds, with sector specific skills and practical experience. TAT is committed to delivering high-level training and other professional services to meet all of our counties.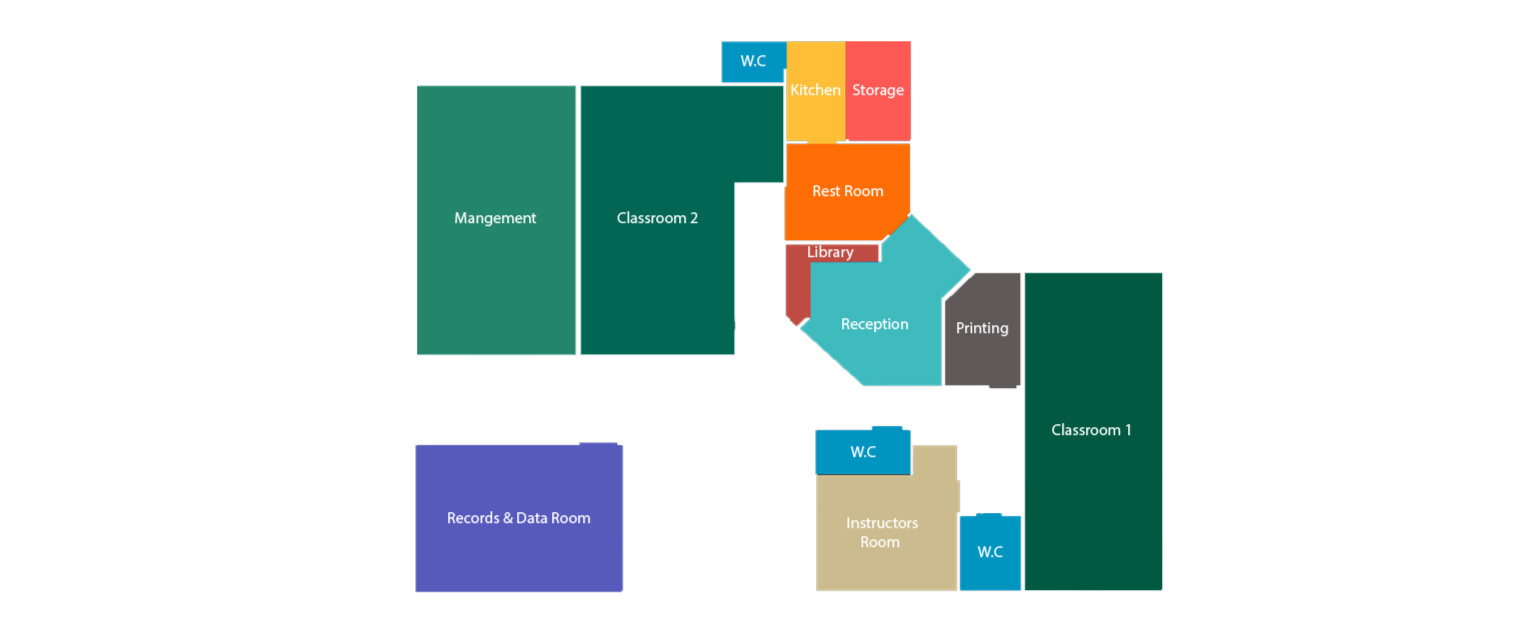 TAT Training Center facilities:
TAT has Classrooms fitted with (Desks supplied with electrical power to facilitate the use of computers. The classes are equipped with projectors which can be connected to a PC or a Laptop to ensure that the trainees can easily read presentation text, drawings, diagrams and figures from any seating position in the classroom. A form of synthetic training aids can be used to further assist the training scope. Multimedia Based Training (MBT) methods may be used to satisfy the theoretical training element either in the classroom or in a virtual controlled environment
The rooms are adaptable to any kind of teaching method, from small workshops to large conferences, depending on the size of the class and topic of the course
Free Wi-Fi band can be accessed from all our classrooms, allowing access to online material and facilitating the interaction with our candidates

The Instructor's Office has sufficient work stations, computers and preparation area for handling their work

The Library includes various types of publications from various sources and subjects including; copies of CARC & EASA Regulations, Aircraft Maintenance Manual (AMM), illustrated parts catalogs, Training Material, aircraft series, makes and models and aviation press magazines. The Library is accessible to all trainees, under the controlled supervision of an Instructor. The Library material is reviewed and updated on a regular basis, by the associated personnel

The Records, Exams and Data Storage equipped to handle the workload and storage of all the training records, examination papers and documentation. The room is equipped with fireproof Cabinet, fire detector, fire extinguisher and alarm systems

Kitchen, Restrooms: a large external area is also available for the convenience of the occupants

Management Office: includes the Accountable Manager office and meeting room and the Directors and Managers stations

Secretary Office, for managing and the administrative requirements of TAT

Reception Room: have sufficient work stations, computers, fax, photocopy machines, printers and scan machines

Examination Room: the examination room is arranged and prepared as per EASA & CARC requirements so that the integrity of the examinations is protected. The candidate must attain a minimum mark of 75%, in order to pass the theoretical assessment. As for the practical assessment the trainee should pass over¾from the total assessed tasks. The course sessions attendance should not drop less than 90%
The whole facility is equipped and protected with an alarm system and fire protection.